COACHES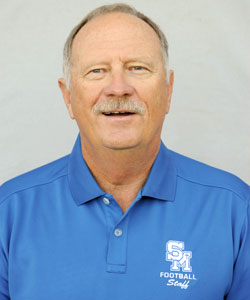 Head Football Coach Harry Welch
Coach Harry Welch is the Head Varsity Football Coach at Santa Margarita Catholic High School. Santa Margarita Catholic plays in the Trinity League, a highly competitive group of seven schools in the Orange County area, touted by many as the toughest football league in the country. Welch joined the SM family in January 2010.
Prior to Santa Margarita Catholic, Welch was the Head Coach at St. Margaret's Episcopal School. During his three years at St. Margaret's he led the football team to a CIF Southern Section title each season and the State Championship in 2008. His St. Margaret's teams set numerous Orange County and California State Offensive and Defensive records. Welch also earned five CIF Southern Section championships and a State Championship as the Head Coach at Canyon High School in Canyon Country. He is the only coach in the state to have won state titles at two different schools, and in two separate CIF Divisions.
Welch has been coaching for 36 years and a head coach for 21 years. He has amassed a record of 222-49-2, which includes a 46-game winning streak, a 43-game winning streak, eight CIF Southern Section titles, a Division 1 CIF State Football Championship in 2006 and a second CIF State Championship in 2008 in the Small School Division. In 2007, he was named Coach of the Year by the California Coaches Association, an organization that includes high school, college and NFL coaches. In 2009, The Orange County Review named Welch Coach of the Year. The Los Angeles Daily News recently selected Welch as the High School Football Coach of the Decade.
Coach Welch resides in Coto de Caza; just a few miles from Santa Margarita Catholic; where he lives with his wife, Cindee. He has 2 daughters and 5 grandchildren and enjoys reading, traveling, great restaurants, and walking his St. Bernard, Ruby, when he is not coaching football.
ASSISTANT COACHES

John Bolger

John
Byszewski

Craig Cieslik

Sean Coen

Jesse Decker

Paul Gomes

Wyatt Hart

Dave
Hirschman

Jerry Holloway

Mike Jacot

Mike Johnson

Michael Krupoff

Nathan
Longshore

Scott McIntosh

Mike
McPhearson

Don Mulhaupt

Jay Noonan

Vince Pattee


Marty Spalding

Matt Steinbach

Mike Walcott

Preston
Walrath

Butch Ward

Monterio
Witherspoon