#81 Bobby Whithorne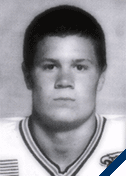 Year: Senior
Height: 6'2"
Weight: 180
Position: WR/DB
Hometown: Coto De Caza
Bobby has been a three-way standout in 2002, leading the team in receiving, kickoff return average and filling in nicely at free safety. Bobby caught three passes at Loyola to increase his team lead to 39. Also added a tackle to give him 16 on the year. Whithorne caught a career-high 13 passes for 185 yards and one score at Servite in Week 7. It was his 4th career 100-yard receiving game. His 13 receptions were one shy of the school record set by Brian Finneran (Atlanta Falcons) and the 185 yards are the fifth highest. He also had an 87-yard kickoff return touchdown and a second one called back due to a penalty. He also added two tackles and one rush for four yards. Whithorne caught nine passes for 114 yards and one Td against St. John Bosco. He also had one carry for eight yards. Whithorne caught four passes for 39 yards at Fountain Valley including a 20-yard touchdown reception. Bobby had a strong all-around game vs. Redlands as he collected seven tackles and his first career interception to earn Defensive Player of the Game honors. He also caught two passes for 18 yards to give him a team-high seven on the year. Bobby started both ways against both El Modena and Redlands. He caught a game high 5 passes for 78 yards including a dramatic 55-yard touchdown catch on the first play of the fourth quarter to put the Eagles ahead for good. Also rushed twice for 12 yards and registered five tackles. His 86 career receptions are 4th best in school history.
In 2001, Bobby emerged as one of the pleasant surprises of the season as the first-year started made significant contributions in every game to earn All-Serra League First Team honors. He showed great hands (a team-high 50 receptions) and the ability to stretch the defense as well (three receptions over 40 yards). Bobby's 50 receptions were the fifth best in team history and his 648 receiving yards were the 9th best. His four TD receptions tied for the team high. Whithorne enjoyed his best all-around game of the season with seven receptions for 140 yards and a touchdown vs. Los Alamitos in the CIF quarterfinals. Bobby caught three passes in the Rialto, St. John Bosco and Mater Dei Games. Bobby had one of the most prolific games in Eagle history with 12 receptions for 137 yards against Tustin in Week 5. The 12 receptions were tied for the second best in school history. Earned Offensive Player of the Game honors twice. Averaged 12.5 yards per punt return.
In 2000, caught 29 passes for 425 yards and five Tds and was the Special Teams Player of the Year for the sophomore team.
Misc: Whithorne worked hard in the off-season to lower his 40-time to 4.47 and pro-agility time to 3.99 while gaining 15 pounds from last season. Bobby had strong showings at the Nike Combine at Stanford and the USC One-Day Camp in May, and enjoyed a productive spring camp. Bobby has recently committed to the University of Washington where he will enroll in 2003. Listed on the California Hot 100 (Cal-Hi Sports) list and identified by many sources as one of the top West Coast prospects for the 2002 season. Whithorne is an underrated blocker who has great hand-eye coordination and balance to go along with his 4.5 speed. He is a member of the Speed and Power Eagle Clubs and has a 32" vertical jump. Bobby has been an Honor Roll and CSF student (3.53 GPA) every semester. Whithorne is also a member of the Speed Eagle and Hartigan's Heroes Clubs. Enjoys golf (12 handicap), snowboarding and water sports. Bobby's older brother Jimmy was a two-year letterman for the Eagles in 1998-99. Played baseball as a freshman.
Player of the Game:
Ayala - Offense
St. John Bosco - Offense
Servite - Special Teams