#8 Josh Thornberg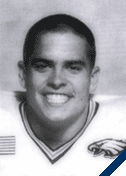 Year: Senior
Height: 5'10"
Weight: 205
Position: FB/DE
Hometown: Coto De Caza
Josh enters the 2002 season with big expectations. A powerful player, Josh has tremendous ability to make the big play on defense, particularly when it comes to sacking the quarterback. A prolific pass rusher, Josh has worked hard in the off-season training programs to improve his skills. During the 2002 season Josh's skills will be utilized at the defensive end position, a position with a rich tradition of outstanding players.
In 2001: Josh was the 3rd down pass rush specialist for the defense during the 2001 Serra league championship campaign. He also contributed on several special teams.
Misc: Josh is a member of the Power Eagles, Strength Eagles, Speed Eagles, 500, 800, 900 LB clubs.
Player of the Game:
Servite - Def. Line