#40 Jack Meehan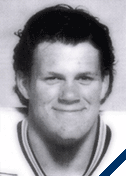 Year: Junior
Height: 5'11"
Weight: 185
Position: FB/LB
Hometown: Laguna Beach
Jack continued his strong 2002 campaign with nine tackles at Loyola to increase his team lead to 91. He is unofficially tied for the Orange County lead in Tackles. Jack record-tying 23 total tackles at Servite playing at middle linebacker in place of the injured Dustin Slinkard. (Mike Farris had set the mark of 23 tackles in 1989). He logged a team-high 14 tackles vs. St. John Bosco to earn Defensive Lineman of the Game honors. He registered five tackles and a fumble recovery at Trabuco Hills in Week 5. Registered 10 tackles at Fountain Valley. Jack logged eight tackles vs. Dorsey. In Week 2, Meehan registered five tackles against Redlands. Jack enjoyed a monster game with a team-high and career-high 17 tackles vs. El Modena in Week 1. It was his third consecutive game with at least nine. Has been named Player of the Game twice (St. John Bosco and Servite).
In 2001: Jack emerged as a defensive force for the Eagles as he set a record for most tackles by a sophomore with 88 to be named to the All-Serra League Team and the Eagles' Rookie of the Year. Recorded a career-high 13 tackles vs. Loyola, and added 11 vs. Rialto in Week 11 and nine against Los Al in the CIF quarterfinals. In his first varsity game vs. Ayala in Week 1 he amassed 10 tackles, recovered a fumble and returned an interception 14 yards to earn Defensive Player of the Game honors. In Week 8, he collected eight tackles, intercepted a pass and broke up another to help the team to a 35-17 win. Registered six tackles vs. Mater Dei and seven vs. Servite to solidify his All-Serra League selection.
Misc: Earned Player of the Game Honors twice in 2001. Enjoys surfing and playing the guitar. Has a 3.0 GPA. Jack is a member of the Speed and Strength Eagle Clubs. His 117 career tackles are tied for 21st on the Eagles all-time list. Lists his stop of Loyola's Chad Slapnicka on third-and-one in the fourth quarter of Santa Margarita's 21-14 win in 2001 as his greatest thrill.
School Records:
1) Most tackles by a sophomore in a season - 88 total
Player of the Game:
St. John Bosco - Def. Line
Servite - Defense