VARSITY COACHES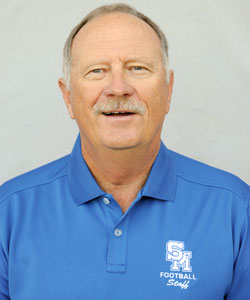 Head Football Coach Harry Welch
Harry Welch is currently in his third season at the helm of Santa Margarita Catholic High School's football program and enters the 2012 campaign with a 22-5 mark at the school. After a 4-0 start to the 2012 season he is now 26-5 (.839) with the Eagles.
Coach Welch was named the third Head Football Coach at Santa Margarita on January 21, 2010 after 18 successful years leading Canyon of Canyon Country (1982-93 and 2001-06) and then for three at San Juan Capistrano St. Margaret's (2007-09). Now in his 24th season as a Head Coach and 41st year of coaching overall he enters Week 5 with a 247-52-2 (.824) lifetime mark.
The Trabuco Hills game was Coach Welch's 300th as a Head Coach. He now has 247 wins in 301 games. He won 246 games in his first 300 contests and only Bob Ladouceur of Concord De La Salle won more games by his 300th contest.
His career accomplishments include a 46-game winning streak, a 43-game winning streak, nine CIF sectional titles - including four in a row from 2006-09, a Division 1 California State Championship in 2006 with Canyon, a second California State Championship in 2008 in the Small School Division (IV) with St. Margaret's and finally a third State Championship with Santa Margarita in 2011 (Division I). He is 9-1 in CIF-SS Championship Games and 3-0 in California State Championship Games.
Coach Welch has six CIF-SS Championships in the past seven years. As part of this impressive run he has won 79 of his last 85 games (.929) dating back to Week 4 of the 2006 season. He has also won 26 of his last 27 playoff games dating back to 2005 with his last post-season losses being a 31-28 setback to Mission Viejo in 2010 and before that a 29-28 loss to Upland in
He now has 26 wins and counting in his third season thru 31 games. Former Eagle Head Coach Hartigan won 27 in his first three seasons (37 games), 36 in his first four (49 games) and 44 in his fist five (60 games).
Coach Welch is the only Coach in California history to win three State Championships with three different schools: Canyon Country Canyon in 2005, St. Margaret's in 2008 and Santa Margarita in 2011.
He was named the 2009 and 2010 Orange County Coach of the Year by the Orange County Register and 2010 Coach of the Year by the Los Angeles Times. In 2007, the California Coaches Association, an organization that includes high school, college, and NFL coaches, named him Coach of the Year. At the end of the 2009 season, the Los Angeles Daily News selected him as their Football Coach of the Decade. He was named the 2011 ABC 7 Southern California NFL High School Coach of the Year.
Coach Welch and his lovely wife Cindee live nearby to Santa Margarita Catholic in the community of Coto de Caza. He has two daughters, Lisa St. John and Julie Adam, and five grandchildren, Nicholas, Nathan, Kara, Evan and Riley. When not coaching football, Coach Welch enjoys reading, travelling, fine dining at many of our local restaurants and walking his St. Bernard, Ruby.