Santa Margarita's Welch is 2010 football coach of the year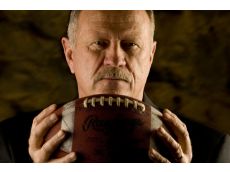 The Eagles' Harry Welch is selected after his two impressive comebacks this season.
As Harry Welch walked onto the field, his players stopped practicing and started a slow, rhythmic clap.
The assistant coaches soon joined in. And at some point, parents watching the practice and some softball players who were nearby also started to clap faster and faster for Santa Margarita's football coach.
Just four days after undergoing surgery for prostate cancer, Welch was back on the field.
"That was one of the most moving experiences I've had on the football field," the coach said of his reception that day.
For Welch, the 2010 season was all about enjoying each experience along the journey. Welch said his fight against cancer taught him that lesson.
But as a coach, he never travels alone. He prepared the Eagles for their own adventure, and this fall, the team overcame its own obstacles.
Coming off consecutive 3-7 seasons, Santa Margarita finished 9-3 overall, placed second in the Trinity League and reached the CIF-SS Pac-5 Division quarterfinals.
For directing two comebacks, Welch has been selected The Register and OCVarsity coach of the year for 2010.
"Santa Margarita, they're back," Servite coach Troy Thomas said during the season.
Welch, 65, wondered if he would be strong enough to coach this season. After being hired at Santa Margarita in January, the former St. Margaret's coach learned in August that he had cancer.
"It definitely crossed my mind," he said of the possibility of not coaching. "I was hoping that we caught this early enough and we'll be successful. (But) one never knows."
Welch scheduled his surgery on the Monday morning during the Eagles' bye week.
Welch said his surgeon, Dr. Jeffrey Yoshida, was prepared to order one to three months of rest after the Oct. 4 surgery. The coach had a different idea.
"I said, 'Doctor, how about one to three days?'" Welch recalled. "He laughed."
The talk around the Santa Margarita program was whether Welch would return for the Eagles' Trinity League opener against Orange Lutheran on Oct. 15.
But after a successful surgery, Welch surprised his players by returning – with his post-surgery catheter tube still attached – for practice the Friday of the bye week.
"I'm not getting off my couch if (that's me)," assistant coach Sean Coen said. "It was killing him not to be there (at practice)."
Despite bouts of fatigue, Welch gave the kind of effort that he demanded from his players.
Welch required a commitment to weightlifting, grueling practices and early Saturday morning workouts during the season.
He wanted each done with maximum effort.
"Every day, every rep," said Coen, who played for Welch at Canyon of Canyon Country.
Welch also insisted on team unity. He told players to forget the big-name transfers that left the program in recent years and to rely on each other, Coen said.
The seniors, who went 9-0 on the freshman level, responded with strong leadership.
"Our group of seniors stepped up," Coen said. "Coach Welch brought it out in them."
Other decisions also paid off for Welch.
He assembled an all-star coaching staff that ranged from 20-somethings, such as Coen and Nate Longshore, to veterans, such as Marty Spalding and Paul Gomes.
Welch also allowed senior players the first pick for the jersey numbers. The players were even allowed to select numbers that had been retired.
Welch believed wearing numbers such as Carson Palmer's No. 3 honored the past, but he also gave players the chance to create their own identity.
After an intense quarterback competition during the summer, Welch and Longshore, the quarterback coach, settled on Adam Young, a little-known senior, as the starter.
Young had played junior varsity in 2009 because of his transfer from Tesoro. Young picked jersey No. 3 and helped guide the Eagles to the best one-season improvement in school history.
After being unranked in Orange County's preseason Top 10, the Eagles finished third in the county behind Servite and Mission Viejo.
But for all the victories, including a league triumph against Mater Dei, Welch cherished the experiences of the journey. The clapping. The banner at the stadium that read, "We are Welch's boys of fall."
"(I'm) treasuring the road more than ever," he said. "I celebrate each day."
In 2010, Welch and the Eagles had much to celebrate.
By Dan Albano
Thursday, December 23, 2010
The Orange County Register