#73 Ryan Lumm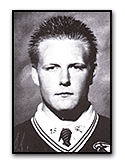 #73 Senior OL/DL Ryan Lumm ) is the top returning Eagle lineman for the second straight year and despite playing guard for the first time in his career, has regularly scored over 75% all season. Ryan was named to the All-Serra league First Team for the second consecutive year this week. Lumm had a solid game at Servite in Week 10 picking up two decleaters and recording a 70% grade. His two decleaters gave him 61.5 in his career - breaking Stan Bennett's record of 59.5 set in 1996. Ryan enjoyed the best game of his career against Mater Dei as he posted a career-high nine decleaters and a 75% grade in earning Offensive Lineman of the Game for the 8th time in his career. The nine decleaters were the second most in school history behind Shaun Jackson's 10. Against St. John Bosco, Ryan collected a 75% grade and three decleaters. In the Alemany game, Ryan earned Offensive Lineman of the Game as he helped the Eagles gain a season high 319 yards rushing by collecting 2.5 decleaters to increase his team lead to 21.5. Against Bishop Amat in Week 6, Lumm recorded a team-high four decleaters. At Tustin in Week 5, Ryan tied his career-high as he registered a team-high five decleaters. At Norco in Week 4, Ryan posted two decleaters, and gainst Lakewood, Ryan collected three. Against Los Al, the senior collected a career-high five decleaters in his first game ever at guard. His efforts earned him Offensive Lineman of the Game for the 6th time in his career.
1999: Lumm was named Offensive Lineman of the Game four times and was honored as a member of the All-Serra Leagues First Team. Ryan posted better than 80% grades in both the A.B. Miller and Servite games and was selected Lineman of the Game for the fourth consecutive week for the Servite game. Lumm registered an 85% grade with two decleaters at Mater Dei to be named Offensive Lineman of the Game. Ryan posted an 83% grade vs. St. John Bosco, and a 90% grade at Alemany to be named Offensive Lineman of the Game. The 90% grade was the highest ever given by Eagle Line Coach Shane Mielke. Ryan posted a 80% grade and 2.5 decleaters vs. Bishop Amat after registering an 81% grade vs. Rancho Bernardo with 2.5 decleaters. Ryan picked up three decleaters and blocked a PAT vs. Dana Hills to earn Special Teams Player of the Game. Ryan recorded a 75% grade vs. Carlsbad. Lumm scored a 73% grade and picked up two decleaters vs. Lincoln. Ryan finished second on the team with 16 decleaters.
1998: Lumm started nine games and finished with ten decleaters. Ryan got his first varsity start at El Toro, and earned Offensive Lineman of the Game honors vs. Rancho Bernardo.
1997: Ryan won the Coaches Award for his efforts on the Freshman team.
Misc: Ryan is rated as the 13th best lineman prospect in Orange County by Gridiron Magazine. Lumm is a member of the Strength, Iron, Power, 500, 800 and 900 Pound Clubs. Ryan has run a 5.0 40 and posated a 26" vertical jump. He can also bench 275 and squat 405. Lumm has 61.5 career decleaters, the top spot on the Eagles' all-time list, and a 3.8 GPA.
Position: OL/DL
Height: 6'3"
Weight: 245
Year: 12
Experience: Varsity 2
Hometown: Mission Viejo
Last School: St. John's
STATS
40: 5.0
Bench: 275
Squats: 405
PLAYER OF THE GAME
Los Al.: Off. Line
Alemany: Offensive Line
Mater Dei: Off. Line
Servite: Offensive Line