High School Closeup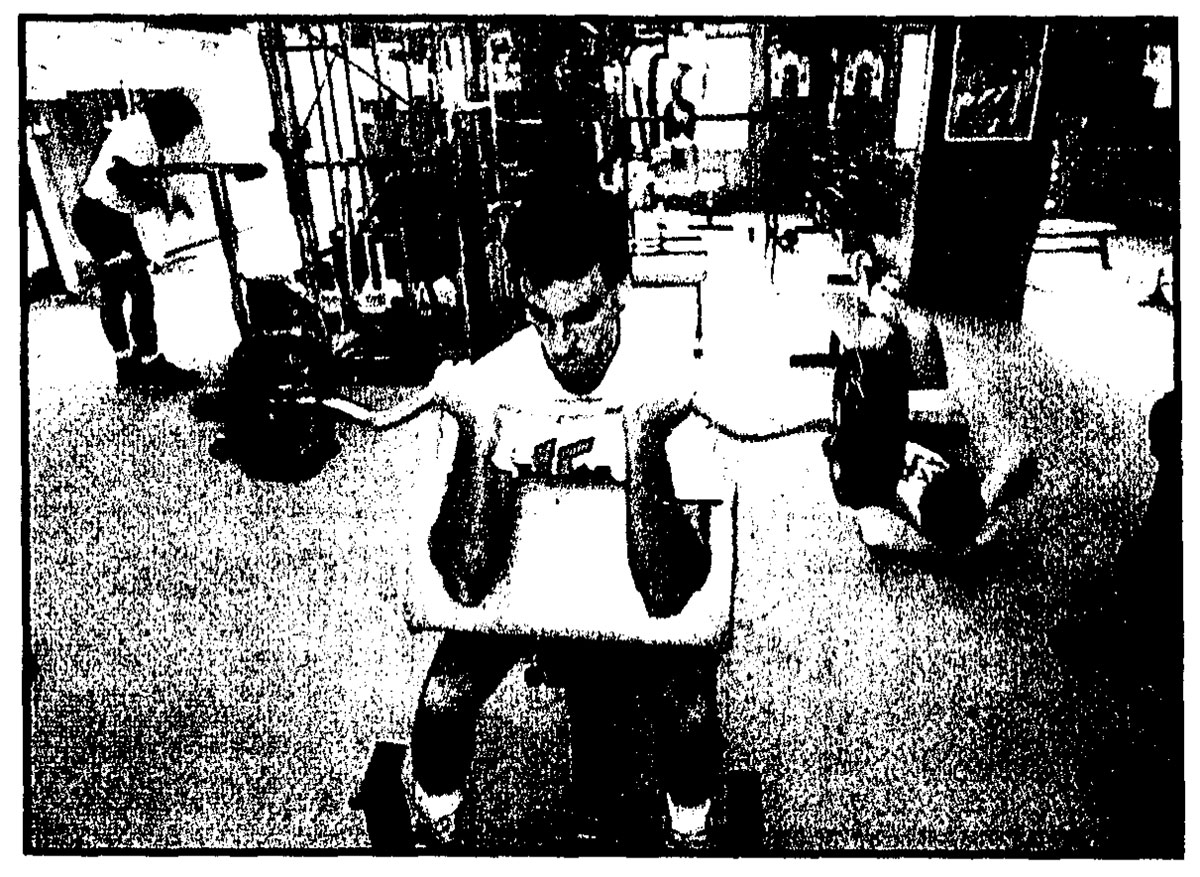 Shane Mielke and Eric Brown work out in Santa Margarita's expansive new weight room, most of which was funded by the Orange County Diocese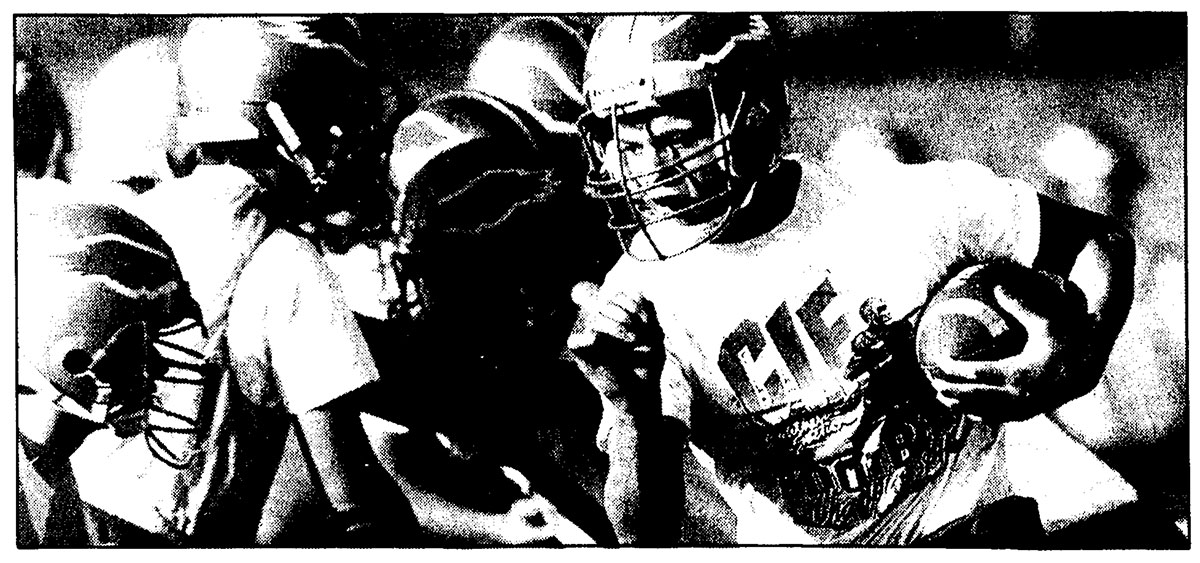 Mike Farris runs during a recent practice. The Eagles are a strong contender to win the CIF-SS division IV title.
Photos: Ed Carreon
All for one. Santa Margarita has winning formula
Santa Margarita High is situated at the foot of the Santa Ana Mountains, in the shadow of the peaks that dominate the local geography.
It seems that the school's athletic program soon might dominate the local high school sports scene in a similar way.
SantSanta Margarita High is situated at the foot of the Santa Ana Mountains, in the shadow of the peaks that dominate the local geography.
It seems that the school's athletic program soon might dominate the local high school sports scene in a similar way.
Santa Margarita is a coed Cathlic school that opened in 1987. Its first class will graduate this school year. But the young school's athletic department has enjoyed remarkable success.
The school seems to have found a winning formula - excellent athletic facilities, a young coaching staff, and active parental involvement.
The football team is in the second round of the CIF Southern Section division IV playoffs and the Eagles are strong contenders to win the division championship.
The girls cross country team finished second in the 1-A championships, and will be in this weekend's state championships. The girls tennis team reached the 2-A quarterfinals this year. Last year, there was a 2-A quarterfinal appearance by the boys volleyball team, and the softball team reached the 1-A semifinals.
The rapid progress of the football team (and the athletic program in general) does not surprise Coach Jim Hartigan, Principal Monsignor Michael Harris nor anyone else.
"I believe every school in Orange County has great athletic talent," Harris said. "Our belief is that success comes not just from the quality of the athletes. It comes down to how you work with these young people."
And, Harris said, parental involvement has played a large part in the development of the school's athletics.
"The parents here are magnificent," he said. "They must have a dozen projects afoot. Parents have been raffling off cars and dinners, and organizing dances and bingo and all sorts of activities. We can't fund everything here on tuition alone."
Parental involvement and the financial support of the business community are crucial, he said. As a private school, Santa Margarita does not rely on tax-supported funding. The school was built almost completely from donations.
Students' tuition - $3,500 per year – covers salaries for teachers and staff and transportation costs.
The Orange County Diocese, through stewardship and other fund-raising methods, provides most of the money for the administration and impressive educational buildings on the campus and the athletic department's huge weight room, gymnasium and locker rooms. Businesses such as the William Lyon Company and Carl's Jr. have contributed.
"When the bishop (the late William Johnson) announced the plans for this school, people really came forward to help," Harris said.
Santa Margarita boys athletic director Richard Schaaf said the diocese tried to build the best school it could.
"The idea was to make this a great place for kids to learn," Schaaf said. "But we're trying to stay away from an image that this is a place for rich kids. Look around - we have no tennis courts, no swimming pool, no racquetball courts. We have a number of temporary buildings. We still have quite a ways to go."
The bishop's plans for Santa Margarita stemmed from a growing need for a south county Catholic high school.
Mater Dei in Santa Ana long had been forced to turn away students wishing to enroll. Even so, the school was overcrowded. And as traffic worsened in Orange County, the drive from south county communities to Mater Dei, Servite and Connelly in Anaheim and Rosary in Fullerton worsened, too.
Nobody is sure how many Santa Margarita students would have been attending Mater Dei or one of the county's other Catholic high Schools.
"Obviously, most of our students would have been making the trek north to Santa Ana," said Harris, who was Mater Dei's principal before going to Santa Margarita. "But the numbers might have been diminishing by now. It used to be an easy drive from down here to Santa Ana. Now, the Santa Ana Freeway is a parking lot from San Juan Capistrano to Santa Ana."
Most of Santa Margarita's student body lives in south Orange County. A few come from as far away as Orange, leaving their homes before dawn to attend classes.
Hartigan said the football player who lives farthest from the school resides in Corona del Mar.
The team's star player is running back Josh Ireland, who would have played at Mission Viejo High if he had attended public school.
And therein lies the controversy. Because Santa Margarita has no geographic boundaries from which to draw its students, it is able to attract top athletes from all areas. And many public schools don't like that.
The sports teams play a "freelance" schedule, which means they are not placed in a league in the CIF-SS, but play games and matches against teams from all over the Southern Section, and beyond. In the 1992-93 school year, Santa Margarita will be placed in a league. Public schools are fighting to keep Santa Margarita out of any league with public schools.
And Santa Margarita does not want to play in the all-Catholic Angelus League.
"I know our principal feels very strongly about getting us into an Orange County public school league," Hartigan said. "The Angelus League just has too much travel. It doesn't make sense for us to go all the way up by the LA airport to play Loyola, or all the way up to play Bishop Amat (in La Puente).
"We'd have to take the kids out of class all day, there would be so much wear and tear on the parents dealing with the Friday night traffic."
Peter Hartman, superintendent of the Saddleback Valley Unified School District, is among those strongly opposed to Santa Margarita's playing in a league with the district's public schools.
"I think they should be in a league with other schools that can recruit from a wide area," Hartman said.
So, what's going to happen to the school's athletic affiliation in two years?
Hartigan chose his words carefully: "We're trying to have good relationships with public schools in this area. I don't think I, or anyone in this football program, has threatened any other programs or done anything to get anybody upset with us. I think it's going to be a huge issue, and I don't really want to touch it."
Harris' response: "There is a very generous supply of great, talented kids in Orange County. People like to say, 'Oh, gee Santa Margarita is successful because they get all the best athletes.' The best athletes are clearly divided among all the schools. It's not like Santa Margarita is the only school in south Orange County to be successful in athletics."
Perhaps a part of the "what to do with Santa Margarita" situation is the athletic program's difficulty in scheduling events against Orange County public schools.
The football team, for example, played only one Orange County team – University. And, with next season's schedule almost completed, it looks as if University again will be Santa Margarita's only Orange County football opponent.
"I've called some county schools and they don't want to play us," said Hartigan. "They don't really tell me why, and I don't want to get into a discussion or debate about it. I don't want to get involved in the politics of it all.
"And I don't want to make anybody upset, and I don't want to look like a crybaby. Parents are asking me all the time why we're not playing Capistrano Valley, Mission Viejo or El Toro. Some of these teams are established football programs that have their schedules done five years in advance."
But Hartigan still is frustrated.
"I feel bad for the kids," he said. "They live in Orange County. They should have the opportunity to play Orange County kids."
By Steve Fryer
Tuesday, November 20, 1990
The Orange County Register - C1