Matt Nickels - USC
Matt Nickels knows what it's like to struggle. As a walk-on transfer, the former Santa Margarita standout not only made the USC team, he earned a scholarship. Now, he is showing why coaches love him on and off the field.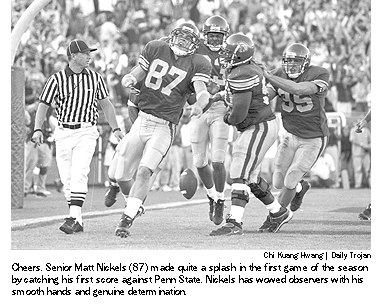 By YING LE
Assistant Sports Editor
Copyright 2000 by the Daily Trojan

At the mere mention of his name, coaches beam, their eyes light up and players laughingly smile. Who can blame them? Senior Matt Nickels' rise to the threshold of the USC football program is an inspiring story.
Nickels walked on to the team last season and worked hard enough at spring practice this year to earn a scholarship. So far into this season, Nickels has proven that he was worthy of the money.
Remember the first touchdown of the season against Penn State when Carson Palmer threw a perfect spiral to a receiver in the endzone? That was Nickels. Remember the eight-yard touchdown caught against Colorado? That was Nickels. Remember the two-point conversion in the waning minutes against San Jose State? That was Nickels.
Even in the loss against Oregon State last week, Nickels played a role in keeping the Trojans afloat before they went under, including scoring the first USC touchdown of the game when the team was down by 14.
"Here's a guy that comes in and makes that kind of play with us being down 14-0," said Head Coach Paul Hackett. "This is what we need to build on and have more ofShe is going to get more and more playing time and our quarterback is comfortable with him. Our whole team takes its hat off to Matt Nickels."
Teammate Petros Papadakis, who use to be a walk-on but also earned a scholarship, agreed and said that everybody loves Nickels.
"Not just everybody on the team, but everybody," Papadakis said. "He's just an affable guy. He's a lot of fun to be around, very humble and just so damn attractive."
Football Dreams
Before the 6-foot-2, 200-pound Nickels transferred to USC in 1998, he was on the East Coast, basking in the academia of Ivy League school Dartmouth for two years. He was also on the football squad although he never played in a game.
Then, in the summer of 1998, he received news that his dad had a recurrence of cancer. A native of southern California he prepped at Santa Margarita and wanting to be close to his ailing dad, Nickels transferred to USC.
"At the beginning, we were mixed on our feelings because we know that he really wanted to go to Dartmouth," said Karen Nickels, his mother. "That was one of his goals and we didn't want him to look back later and regret the decision to leave.
"But then, when we were going through that year of chemotherapy, he needed to be close by. He wanted to be near so he could help. At that point, we just felt loved and wanted him to be closer."
In his first year at USC, Nickels wasn't on the football team. Last year, his parents and close friend Palmer urged Nickels to walk on but he was hesitant.
They were more self-confidence issues," Nickels said. "I just never thought that I had the raw talent or ability to play at this level. I just thought that these players were the elite of the eliteSI never thought that I could do it."
However, Palmer, who also went to Santa Margarita High, saw a potential-filled wide receiver.
"In high school, he was always a great player, always a guy who gave all of his effort," said Palmer, also Nickels' roommate. "I knew that he was a guy that we needed on the team to come out here and show his abilities."
Nickels' parents listened to his doubts and told him to just try.
"We finally said to him, you have to follow your dreams," Karen Nickels said. "The ones who challenge themselves succeed in life."
A week before tryouts, Nickels listened to their advice. Knowing Palmer also helped make his transition to the team easier.
"It was great having him here," Nickels said. "I don't think I could've made it through the first couple of weeks without him."
At first, Nickels was intimidated and overwhelmed to see how fast and strong everyone was, adding to his doubt.
But Palmer continued to support him. Nickels listened and soon realized that he could play on this level. Since Nickels loved playing football, he didn't mind going to practice.
"It is the idea of playing on the same practice field that so many great athletes before me have walked out onto and just seeing the amount of pride, hard work the players and coaches put into this team," Nickels said. "It makes you want to succeedSthat is what makes it fun."
Lessons learned
Nickels played in five games last season but didn't catch any passes. That doesn't matter now because he's making it up this season with two touchdowns and five catches for 61 yards.
The younger wide receivers, such as sophomores Marcell Allmond and Kareem Kelly, learned many lessons from the elder Nickels.
"(I learned) how to have fun on the field and how to stay focused and get pumped when it's time to get pumped," Allmond said. "Nick, he's a good person. He's a funny guy. I'm going to miss him next year."
Kelly agreed and added that he learned how to be patient and maintain his composure.
"He's showed a lot of patience and composure, having guys play in front of him," Kelly said. "He just stayed calm and he got a chance."
Nickels also learned a lesson from the other wide receivers: that nothing can hold him down if he puts his mind to it.
"I admire their (Allmond, Kelly and Steve Stevenson) determination and their guts to go out there as freshman and succeed on the football field," Nickels said. "It is remarkable that they can do that."
Nickels' dad, Matt Nickels who is fine now, also taught him lessons in life after his bout with cancer.
"I was sad for so long with my dad," Nickels said. " But now that everything is okay, you learn not to take anything for granted anymore. I took some of the silly little moments that my dad and I had for granted and now, I just sort of live life more fully. I appreciate every little thing that happens and I couldn't be happier right now."