Matt Dlugolecki - SDSU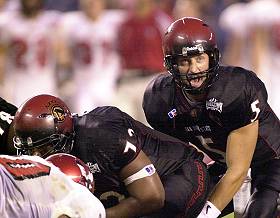 CHARLES STARR / Union-Tribune
Aztec Matt Dlugolecki competed well in high school against some highly rated teammates at QB who went on to Division I-A programs.

Hall's replacement as Aztecs QB has confidence needed for the job
By Kevin Acee
UNION-TRIBUNE STAFF WRITER

September 3, 2003

San Diego State fans are fretting about Matt Dlugolecki.

Just how is he ever going to fill in for record-breaking quarterback Adam Hall against Ohio State on Saturday and then for at least two more games? Where will this guy lead the Aztecs' season of hope?

Well, people need to know a little something about Matt Dlugolecki. The kid from Orange County, by way of the University of Illinois, can step in and step up. He's had to wait his turn before, and when he has gotten his chance he's fared well. And along the way he has exhibited traits that will likely continue to serve him well.

Dlugolecki is a little embarrassed by that characterization. Anyone who knows him knows he is a man of few words, and he certainly doesn't talk about himself that way.

But, yeah, he finally says with a shy smile, he's ready.

"I'm not one of those guys who's afraid to go out there because I think I'm not as good as the starter," he said yesterday. "Now, again, I'm not saying that Adam is not the best, but I'm not going to be a guy who is afraid to step in there and get the job done."

Dlugolecki, a 6-foot-4 sophomore who transferred from Illinois before the 2002 season, will make his first start Saturday at second-ranked Ohio State in place of the injured Hall. It was Hall who suffered a high ankle sprain last Saturday against Eastern Washington and is expected to be out at least the next three games. It was Hall who was supposed to temper a young receiving corps this season while maybe even throwing for 5,000 yards and leading the Aztecs to a bowl game and the world to peace.

Dlugolecki, a humble Catholic kid who calls himself a mama's boy and prefers nights at home with the folks to partying with the fellas, expects Hall will do all those things. He looks up to the senior with all the experience. He knows Hall will return, and he will gladly cede the job back to him.

That's the way it's supposed to be and has always been.

Dlugolecki knows. He has been here before. Dlugolecki played the last two years of high school at Santa Margarita High in Orange County. He moved with his family to Orange County from Pennsylvania. He intended to play for prep power Mater Dei and attended the school for a time in the final quarter of his sophomore year. There, however, was an established quarterback named Matt Leinart, now the starting quarterback at No. 4 USC.

Dlugolecki's family lived closer to Santa Margarita, anyway, so Matt transferred. About the same time, a senior named Chris Rix transferred to Santa Margarita as well. Rix is now the starting quarterback at No. 11 Florida State. The two competed closely during the summer, and while Rix started every game early in the season, Dlugolecki would play every game. Midway through league play, Santa Margarita coach Jim Hartigan made a switch, moving Rix to receiver and starting Dlugolecki at quarterback.

"Matt had stepped up and learned the offense and was doing well in his time (in games) and in practice," Santa Margarita quarterbacks coach Mike Maxwell recalled yesterday.

Santa Margarita did not lose a game the rest of the regular season before being eliminated in the first round of the playoffs.

The job was all Dlugolecki's the next year following Rix's graduation, and Santa Margarita won the Serra League title. Along the way, Santa Margarita did something no team in Orange County had done in five years. Dlugolecki completed seven of his 10 passes, throwing for one touchdown and running for another as Santa Margarita beat Mater Dei late in the season.

"Matt stepped up and delivered," Maxwell said. "He had a great game. Matt's big thing is he's a smart quarterback. He always got us in the right play. He would always check us into the right play."

Mater Dei in front of 6,000 people might not be Ohio State in front of 103,000. But know this, too, about Dlugolecki:

He is the only Aztec to have taken part in a victory over Ohio State.

Dlugolecki was a redshirt freshman on the traveling squad in 2001 when Illinois beat Ohio State in Columbus on its way to the Big Ten title.

So now he stands ready to lead a team into the Buckeyes' mammoth stadium, undaunted and prepared for his time in charge.

"I learned a lot from Adam, a lot from Chris – what to do, what not to do," Dlugolecki said. "I feel ready."