Hello, Newman - Billy Newman Article - The Daily Evergreen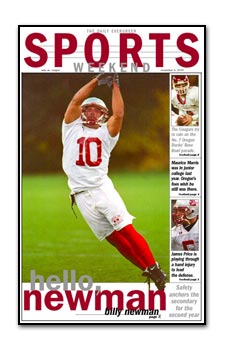 Hello Newman,
By Jon Naito
Nov. 4th, 2000
The Daily Evergreen
http://www.dailyevergreen.com/
OK, THIS IS GOING TO SOUND SOOO RICHIE CUNNINGHAM. BUT BILLY NEWMAN IS A THROWBACK. HE IS A TEAM PLAYER. HE IS A GAMER. HE ALSO LOVES HIS FAMILY, HIS GIRLFRIEND, HIS TEAM AND MOST OF ALL, FOOT-BALL. HE IS AN ALL-AROUND NICE GUY.
Told you so. A modern day Opie. The All-American, Norman Rockwell kind of guy. But wait, there's more.
He's also a good football player.
He's a solid cover man.
He can hit.
He can blaze a 4.39 40.
He returns kicks, was one hell of a high school running back ....
Well, you get the picture. So who is Billy Newman? First things first. He is the defensive leader for the WSU football team. A 5-foot-10 dervish of energy and spark at strong safety.
So vital is he to the Cougars defense, that his coach, WSU secondary coach Chris Ball, calls him, "our Jason Gesser" a reference to WSU's offensive captain and starting quarter-back.
But there is so much more to Billy Newman than just what you see on the field every Saturday. He's more than the triggerman of the WSU defense, more than the run-stopping, ball-hawking, all-con-ference menace zeroing in on receivers.
Billy Newman is a man of many worlds. It just happens one of them is the fish bowl of major college football.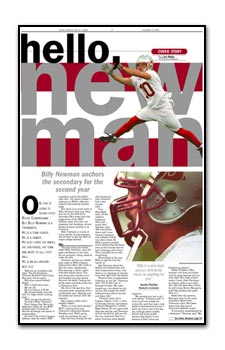 Billy
he first thing you notice about Billy Newman, sans the pads and helmet, is his hair. It's an unfurled, rising, stack of curls. An afro.
Newman arrives in a confer-ence room at WSU's Sports Information office. His outfit is like the room, nondescript. He's wearing a white t-shirt and dark denim jeans. The only thing that stands out is the baseball cap that barely fits over his head. Coming out of the sides and back of the hat is Newman's hair.
He sits at the spartan, char-coal gray desk, speaking with a comfortable ease. Making sure he makes eye contact with the reporter.
He's honest, polite and a helpful subject.
"Billy is a very loyal person," WSU running back and Newman's roommate Jeremy Thielbar said. "He'll pretty much do anything for you."
Like the time during his red- shirt freshman year Newman had a few friends over.
"Our Rose Bowl year, all the redshirt freshmen didn't get much love," Thielbar said. "We went down there and it was during Christmas and nobody's family was down there. So Billy's parents invited every scholarship freshman over to their house and we had Christmas over there. They had gifts for us and everything.
"That's kind of the way Billy is and the way his family is."
Ask Newman about his family, his background, and their importance to him, and there is no shortage of superla-tives that spill from his mouth.
"They've been a tremendous influence on my life," Newman said. "All of who I am is because of them. My mom taught me a lot about not giv-ing up. She taught me about being gracious about success and about life."
Newman grew up in Laguna Niguel, Calif., a town in Orange County, and attend-ed Santa Margarita Catholic High School. It's an upper-mid-dle- class setting, and Newman will be the first to tell you his life was sheltered. But it's a place Newman stays deeply rooted to.
"My parents put me in private school," Newman said. "I went to private school my entire life, and that was a real positive environment for me. I grew up with a core of 10 peo-ple, through about middle school and those people became like family to me, because I didn't have any brothers or sisters."
Added Thielbar, "He's learned a lot from his father and his mom because he's an only child. His (high school) coach, Coach (Jim) Hartigan, he always talks to me about him. He still goes down there; he still wears Santa Margarita stuff. He relishes how good they are."
Aside from his parents, Hartigan may be the most important figure from Newman's past. He's been there since day one of Newman's football career.
"I was pretty uncoordinated as a freshman," Newman said. "My sophomore year, they moved me to varsity for some reason, and Coach Hartigan was our running backs coach that year. We hated him. He rode us hard. It was tough love. But he made me into a better football player. Coming out of his system, I felt so fortunate, because I was so advanced, and I felt I was better prepared.
" It's one thing to become a star in a small, distant location out of the lime-light. It's quite another to become a star in one of the most visible places in the country.
Newman not only became a school-boy star, he did it in talent-rich Southern California.
As a senior, Newman rushed for 2,309 yards and 24 touchdowns, earn-ing CIF Division 5 Offensive Player of the Year Honors. Colorado and California were among the schools courting his services, but as a defensive back. Newman had other plans. So he packed his bags and headed to Pullman, where WSU Coach Mike Price promised to give him a shot at running back.
The Switch
Billy Newman, WSU running back, didn't last very long.
During spring practice in his red-shirt freshmen year, Newman was approached by coaches. WSU would have a glut of running backs in the fall. The coaches were particularly high on junior college transfer Kevin Brown. The depth at safety was thin. Was Newman willing to switch?
"It was really tough," Newman said. "Coach Hartigan came up here and he was actually the one who told me. It felt like I hadn't succeeded at running back. But God has a plan and he knows what he's doing.
" It proved to be a fortuitous move. Newman flourished at free safety last season, finishing the season with a team-leading 105 tackles and shored up a secondary hit with the loss of starting cornerback Chris Martin during fall camp.
"I really didn't think I was going to play a lot of safety," Newman said. "But it was the only way I could get on the field quickly."
Any concerns the coaching staff had about the decision were erased almost immediately.
"I remember the first day after he was moved to safety," Thielbar said. "We ran a 'liz', which is when the receiver runs a route to the flat real quick, and he knocked this receiver clean. I remember Coach Price fired up like, 'Yeah! You killed him! Nice job!' It was just natural."
For Newman, it was.
"I think running back is a lot like safety," Newman said. "When I was a running back, my strength was my vision, seeing the holes. Playing safety is the same way, you have to see the field.
" Newman is as prototypical a modern safety as you'll find.
He can stop the run - he's third in the Pac-10 in tackles with 74; he can blitz - he has two sacks; and he's excellent in pass coverage - he has three interceptions on the season, one for a touchdown.
"He never comes off the field," Ball said. "He's a great player. He makes the checks and gets us lined up. He's a coach out there and that's why we need him out there.
"He's probably as good a football player as I've been around."
Billy Newman is a man of many worlds. Football ties them all together. On the field, you see the discipline and work ethic from Hartigan. You see his loyal nature when he speaks of high school teammate Carson Palmer and the struggles he's having at USC. And you see graciousness and love for those close to him when he talks of his team-mates, instilled in him by his parents.
"This is a real close team," Newman said. "This team is family-close. The vets have love and respect for each other and there's nobody saying they're better than anyone."
As the interview concludes, Newman walks out the door, curly locks flowing from his hat.